Post-consumer PET
in a circular economy

Design for material circulation - using mono-material PET
To maximise circularity in food packaging, we need to choose materials that can be kept in circulation in the economy at scale, and we need to stop devaluating the material streams by using multi-materials.
Mono-material PET is a versatile plastic material that allows for endless recycling. It has superior properties when it comes to food safety, and it can be composed by up to 100% recycled post-consumer content while being fully recyclable into new food grade products. This makes it one of the most sustainable materials available for rigid food packaging today. Consequently, we are seeing more and more manufacturers shifting from multi-materials to mono-material PET. To advance true circularity, we need to push for the use of post-consumer recycled PET for rigid food packaging – however, without breaking the loop by using recycled material from PET bottles. Instead, we need to focus on tray-to-tray recycling.
Rigid food packaging products that contain up to 100% post-consumer recycled PET reduce their CO2 footprint by more than 50%.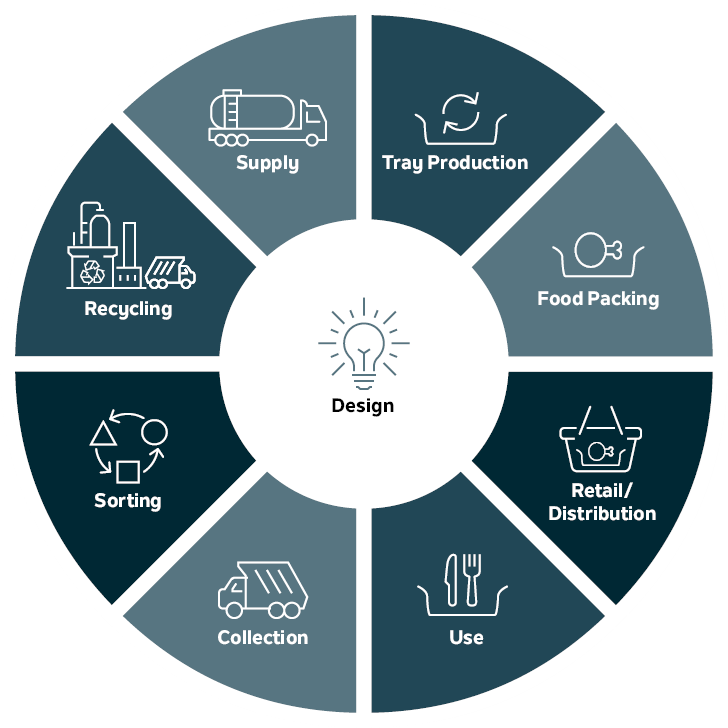 With material types such as PP and PS, using recycled content is not possible for food contact materials. This is due to food safety requirements and the polymers' specific properties. To qualify for direct food contact, 100% virgin material is required. In addition, these materials are often not recyclable into new food grade products. Downcycling into products of lower quality for non-food applications is often the only option available.

A Better recycling infrastructure
One of the pressing challenges in building a circular economy is the current recycling infrastructure. Too often, PET products are wasted, and a valuable resource is lost. In addition, recycling rates for rigid food packaging, such as trays, are still relatively low, representing a critical bottleneck for the expansion of tray-to-tray recycling. This needs to change. To strengthen collection and sorting, key players across the industry need to collaborate – from producers and consumers – to legislators and recyclers. Cirrec is a part of Faerch Group, and we are committed to invest in and expand the recycling infrastructure of PET food packaging.

Supporting legislation to drive change at scale
To fully succeed in creating a circular economy for post-consumer PET, we need market mechanisms to play a dominating role – and they should be supported by legislation. Today, too many food packaging applications are produced using multi-materials that contaminate recycling streams. Instead, we should focus on using recycled and recyclable PET that reduces the consumption of virgin raw materials and lowers environmental impact.
As plastic converters, we need to enable a circular choice for the rest of the value chain and for society by:
Ensuring that all packaging placed in the market is fully recyclable, i.e. tax or ban those materials that cannot realistically be recycled.
Fostering the use of recycled content in packaging across all applications, by introducing mandatory minimum shares of post-consumer content.
Strengthening collection and sorting to make sure plastics are made fully available for recycling, i.e. kept in the economy and out of the environment.
Protecting and increasing the quality of waste streams, not polluting them with multi-materials.

Joining forces to accelerate change
No one can drive change alone. Joint commitment and collaboration are essential. Cirrec – and Faerch - invites all industries and public stakeholders to join the journey towards a circular plastics economy where tray-to-tray circularity is the guiding principle.